Prospect.io becomes Overloop and brings you new CRM features: conversations, 2-way sync with your mailbox, web forms, new workflows and notifications, etc.
Conversations and 2-way Email Sync
Your sending addresses became email accounts and can now also be used for receiving emails in Overloop. In other words, you get 2-way sync of the connected mailbox.
What does it mean for you? No more need to switch to your email client to keep up the discussion with the prospect – you have the whole thread in Conversations: easily accessible, well-organized, with all the data available.
Conversations are linked to prospects, their organizations, and their deals. You can switch between the email thread to the prospect's panel or a deal in one click.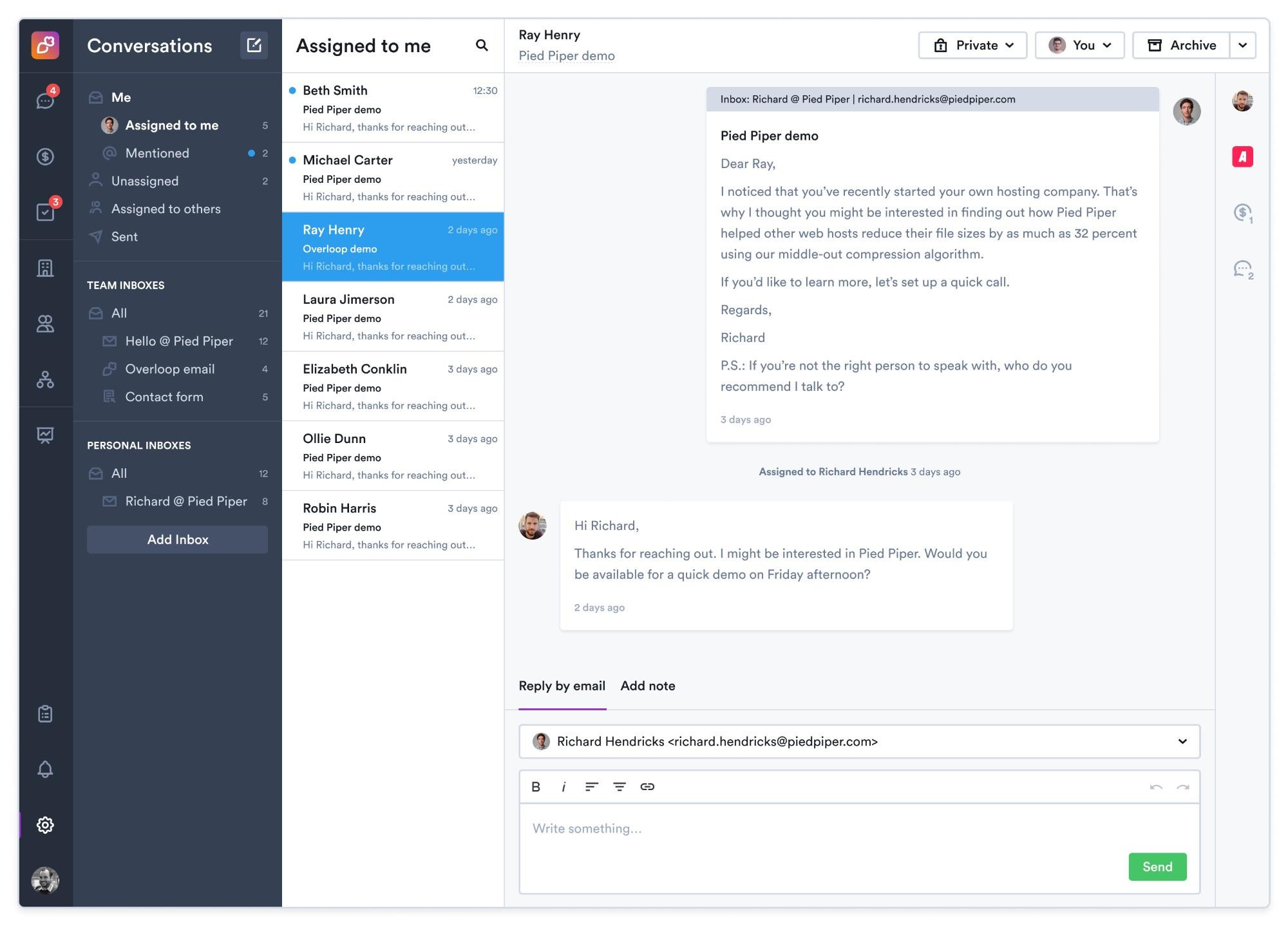 More Collaboration Options
Notes and mentions. Add notes to your conversations and mention your teammates. They will receive a notification about the mention to review the conversation or follow up with the prospect.
Transfer conversations. Assign conversations to you or any teammate in your Overloop account. This is the most effective way to sort incoming messages and give your team a clear understanding of who is working on what.
Shared inbox. Create a shared inbox for your team email addresses and let all your team members use it in Overloop. This is especially useful for email accounts like contact@, info@, or sales@.
New Notifications
Enable notifications to know when a new conversation starts in your private inboxes, the team's shared inboxes, or when there is a new conversation assigned to you.
Web forms
Overloop's web forms make it easy to collect contact information from prospects and store it directly in your CRM. Customize the forms to gather the information you need, with over 1,000 predefined form fields.
You can share a form via a link or even embed it on your website and instantly start conversations with your visitors.
Overloop Email
We introduced the Overloop email address. Simply forward your emails to this address and they will appear in your CRM with all the data automatically created (prospect, organization, etc.)
Conversation-based Workflows
Having introduced conversations, we also add more options to automate your job.
Create new conversation-based workflows to automatically send replies, reassign or archive conversations, create new tasks, etc.
No more dashboard
From now, you'll land on the Conversations page whenever you log in to your Overloop account. We let you concentrate on what really matters – communicating with your clients and closing deals, with no distractions.
Feel free to try out all of our new features. Should you need any assistance, feel free to contact our support team at support@overloop.com